Together International Nederland continues with its Humanitarian Mission to Ukraine, focusing in providing relief aid in a time when weather conditions will enhance the suffering of the population living with the war. We will partner with several organzsations, like Ukrainians in The Netherlands, Sri Sathya Sai International Organisation, ZML in order to reach the most needed areas in the conflict. Winter items and food will be distributed, and monetary donations will help buy items in Poland, closest to the Ukrainian border.
Thank you for collaborating!
We are collecting:
Food (canned, rice, pasta, flour, sugar..)
Thermal clothes: gloves, hats, coats
Medical supplies (painkillers, bandages..)
Winter sleeping bags
Warm blankets
Sleeping mats
Electric heaters, heating pads
Toiletries (feminine hygiene, soap=
Diapers, baby formula
Torches
Rubber boots
Rehydrating salt
Water filters
Collection Points:
Stepping Stones Daycare (Laan van Meerdervort 630):
Wednesday: 18:00-20:00
Friday: 18:00-20:00
Saturday: 11:00-13:00 and 18:00-20:00
Spanish Centre (Korte Lombardstraat 6):
Wed: 14:30-16:00 and 17:30-19:00
My gym (Hellingweg 136):
Monday 14 November: 18:00
Leiden University The Hague campus (Turfmarkt 99)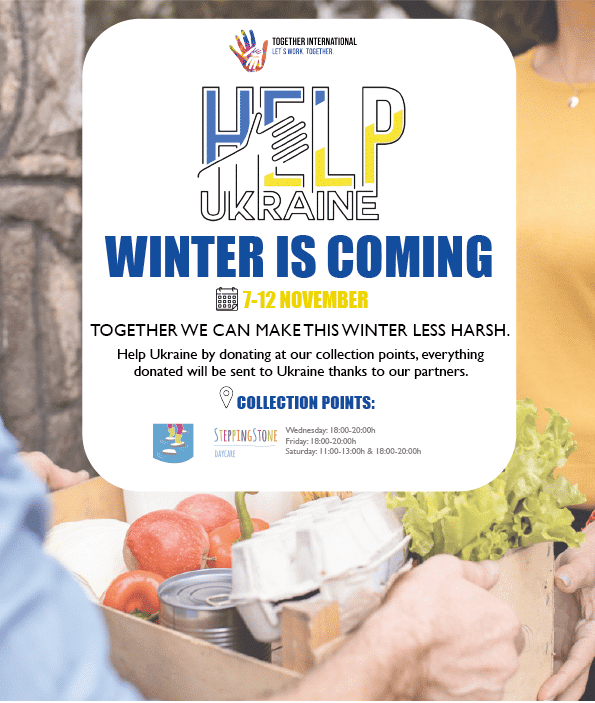 TOGETHER WE CAN MAKE THIS WINTER LESS HARSH.